FAMILY COOKING COMPETITION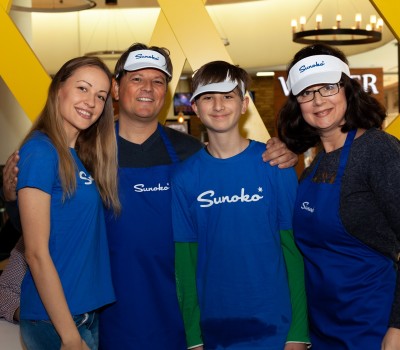 Our company Sunoko has supported the event "Family Cooking Competition by Lena" held last weekend at Ušce Shopping Center. Three families have participated in the competition: Aćimovic, Tuvić and Madić Family (Sunoko team representatives). Their task was to prepare an appetizer, main course and dessert from the selected food within the set timeframe.
The host of the program was Dr Saša Plećević, also known as Dr Feelgood. A positive atmosphere marked the competition, with viewers cheering for their favorite competitions. Special games were organized during the breaks between meals, such as making a sandwich as fastest as possible, then throwing sugar cubes into the glass without using hands and other.
All three families that have participated in "Family Cooking Competition by Lena" made a great effort to make their specialties not only delicious but also nicely decorated to earn the highest marks, so the jury had a very difficult task.
Aćimović family from "Frikom" team won the first place of "Family Cooking Competition by Lena". The jury was delighted with their delicious food, but also with their effort and decoration of their meals. All participants were rewarded with gift packages from sponsors of the event "Frikoma", "Carnex", "Sunoko" and "Tefal", while the winners also won a weekend for the whole family at Kopaonik.