Sunoko has donated a car to the Social Welfare Center in Kovačica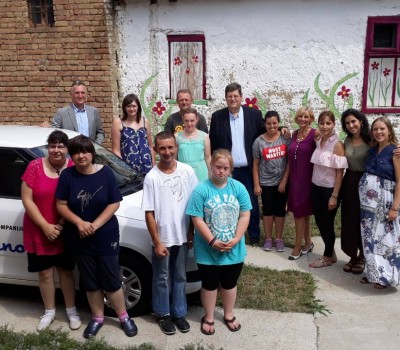 KOVAČICA, 15/08/2018 – The company Sunoko, a member of MK Group, has donated Škoda Fabia to the Social Welfare Center in Kovačica in order to enable easier and faster performance of daily activities.
The donation was delivered by Ljubiša Radenković, Director of Sunoko, who emphasized the importance of corporate social responsibility, and the fact that Sunoko has been continuously working on improving the living conditions of the local communities in which it operates.
"The company Sunoko, as well as MK Group which operates in 70 municipalities in Serbia, are always trying to meet the needs of institutions of public importance. We are aware of how important it is to take care and help local communities, and such care and responsibility are best shown by giving an example" said Radenković.
The Director of Social Welfare Center Kovačica Dušanka Petrak has expressed her gratitude to Sunoko for such a nice gesture. "Any help to our Center is significant and welcome. We really appreciate the fact that you have provided your assistance and shown your willingness to help us" said Mrs. Petrak.
By continuously allocating substantial funds and participating in numerous humanitarian activities and donations, the company Sunoko once again showed by giving an example that it is necessary to care and help the community and to be a reliable partner to the society in solving numerous social problems. Other member companies of MK Group system also actively assist local communities in Serbia. Only in the last 5 years, 460 socially responsible activities worth over 3 million euros have been realized.